Straw & Hide Bed
From TerraFirmaCraft Plus Wiki
Straw & Hide Bed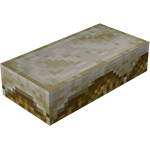 | | |
| --- | --- |
| Gravity | No |
| Tool | None |
| Stackable | N/A |
| Flammable | No |
| Weight ⚖ | N/A |
| Size ↕ | N/A |
| BlockID | terrafirmacraftplus:2115 |
Obtaining
The Straw & Hide bed is created by right clicking with a Large Raw Hide on two adjacent Thatch blocks while standing at what will become the foot of the bed and facing towards the head of the bed.
Usage
Straw & Hide beds are used by right clicking on them at night or during a thunderstorm. Attempting to use a bed at any other time will result in a "You can only sleep at night" chat message. Straw and Hide beds can be slept in, albeit uncomfortably.
The player cannot sleep in a straw & hide bed if they are too cold or too hot. To mitigate this, the player should wear clothing that protects them from the temperature, or place the straw & hide bed under a Roof that protects them from the elements.
Breaking the bed will drop the thatch blocks and raw hide used to create it.
History
Beta
78.0
Added the Straw & Hide Bed.
80.12
Made it possible to sleep in Straw & Hide beds.
Gallery