Rope Ladder
From TerraFirmaCraft Plus Wiki
| | |
| --- | --- |
| | This page is a stub or is incomplete. |
Obtaining
6 Ropes and 3 Bundles of Sticks can be crafted into 32 Rope Ladders.
32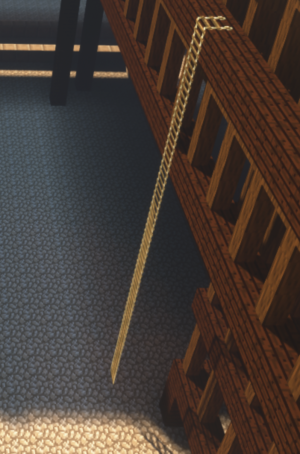 Use
With Rope Ladder in hand, SHIFT+right click the top surface of a block that is adjacent to a vertical drop of 2 blocks or more. 1 Rope Ladder will be used to create the anchor section on the top surface of the block and 1 or more rope ladders will be automatically placed beside the block, hanging below (to a maximum of the number of rope ladders you had in the stack). The ladder will stop if it meets a solid block and will leave a 1 block high space (or earlier if you ran out of ladder in that stack). This gap allows the placement of another Rope Ladder on that surface if it also has a drop.
Right clicking the anchor section with an open hand will pull up the whole ladder. Shift+clicking the anchor section will allow you to pull up and collect sections of the ladder one at a time. Clicking the anchor section with Rope Ladders in hand will add new sections to the bottom of the ladder, one at a time.
Unlike Ladders, Rope Ladders cannot be placed from the bottom up.
History