Main Page
From TerraFirmaCraft Plus Wiki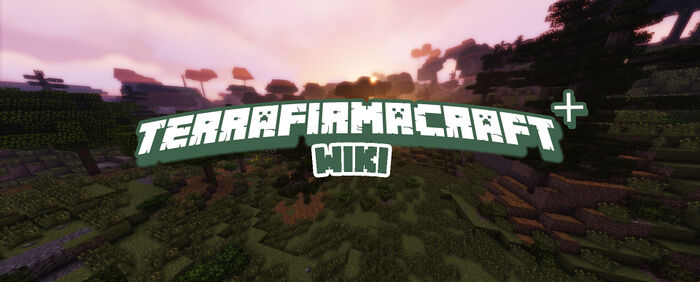 Terrafirmacraft+ Wiki
The ultimate source of information about TerraFirmaCraft+, that anyone can edit.
We currently have
263
articles.
About TerraFirmaCraft+

"Survival Mode as it should have been." Terrafirmacraft+ is a continuation of 1.7.10 Terrafirmacraft, a mod that aims to make Minecraft more believable and realistic by overhauling many of its features, by Dunkleosteus, a former developer. It is suited for experienced players of vanilla Minecraft, whom feel that an amount of complexity and detail has been lacking in the vanilla game, and want a level of realism that vanilla Minecraft does not provide.

Terrafirmacraft+ adds clothing, glassworking, musicial instruments, more animals, biome regions, and world generation improvements, such as adding branches to trees, along with many other improvements, to the original TFC. It also plans to change smithing and cooking, add carpentry, and improve progression. Because it is not a rewrite, but instead a revival and update, it is already completely playable, with all the features from the original.

Terrafirmacraft+ is not related to Terrafirmacraft-The New Generation (TFC-TNG), a project to port the original Terrafirmacraft to newer Minecraft versions. For information on TFC-TNG, visit their wiki. For more information about the forks of Terrafirmacraft and their history, see List of TFC-Related Projects.

Play it!

Links and Support

TFC+ Wiki

Everyone with an account can edit this wiki. Please visit the TFC+ Discord's #tfcplus-wiki channel for coordination of editing!

If you previously had an account on the 1.7.10 TFC wiki, you can access your account here.

Learn More!